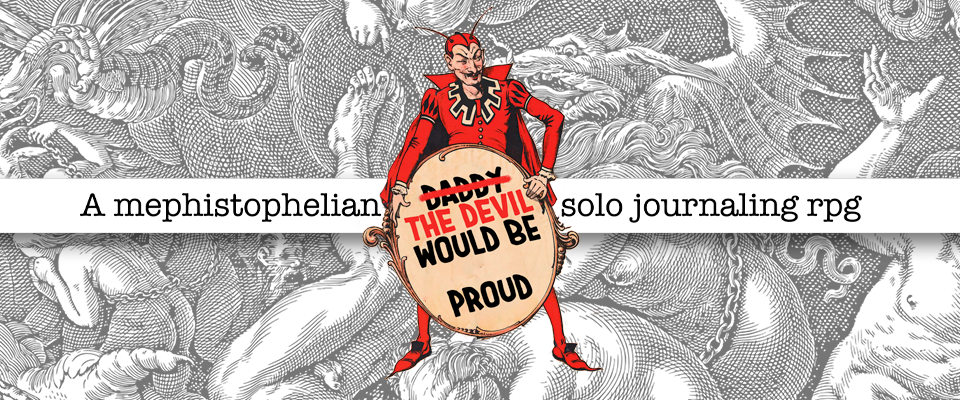 The Devil Would Be Proud (1E)
Lucifer, Luzbel, Fallen Angel, Satan, Great Red Dragon, The Enemy, Samael, Beelzebub, Mammon, Abaddhon, Legion, Beelzebub, Baphomet...
Your father The Devil has many names but little patience. As the heir of the throne of Hell, you are supposed to inherit control of the underworld when the celestial war is waged. But your strange fascination with mankind and complete lack of malignity have brought shame to your father the Devil. Now he's sending you to the mortal realm to find out once and for all if you have what it takes. Your mission? To collect lost souls for his legions and prove that you possess some kind of wickedness.
Will you prove yourself a worthy leader of the infernal realm?, or will you end up in banishment for sympathizing with mortals and their repulsive feelings? It's time to roam the earth and make Daddy the Devil proud of you.

The Devil Would Be Proud is a solo journaling game about human nature, its highs & lows, its flaws and virtues. It's a creative reflection on what we desire and the risks in achieving it.
The Devil Would Be Proud encourages you to leave your home to play (virtually or physically) as in Guy Debord's dérive.

The Devil Would Be Proud is a hack of the L.E.A.D.S. system by Nicolas "Gulix" Ronvel.
unununununununununununununununununununununununununununununun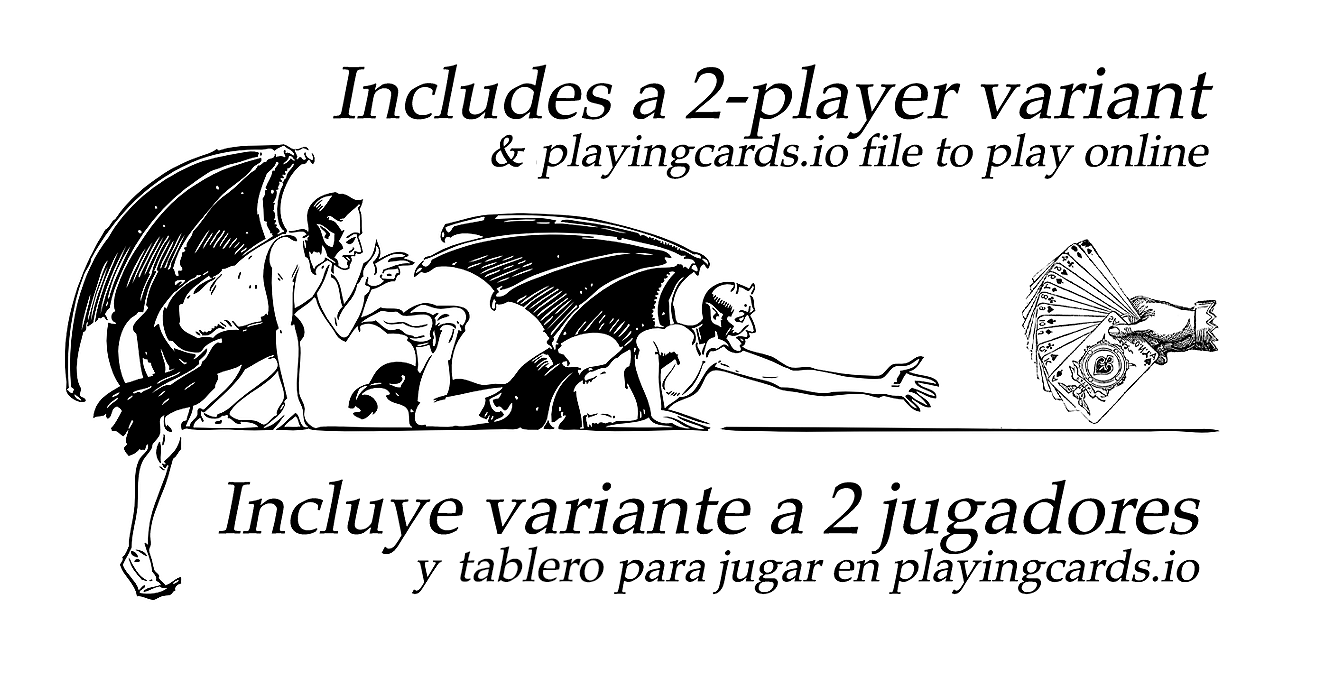 nunununun idioma castellano ununununununununununununununununun
Lucifer, Luzbel, Ángel caído, Satanás, Gran Dragón Rojo, Satán, El enemigo, Samael, Belcebú, Mammon, Abaddhon, Legión, Belcebú, Baphomet...
Tu padre El Diablo tiene muchos nombres pero muy poca paciencia. Como siguiente en la línea de sucesión infernal, se supone que heredarás el control del averno cuando comience la gran guerra celestial. Pero tu extraña fascinación por la humanidad y completa ausencia de malignidad han ocasionado la ira de tu padre el Diablo, haciendo que te envíe a la tierra para averiguar de una vez por todas si tienes lo que hace falta. ¿Tu misión? Conseguir almas perdidas para sus legiones y demostrar que posees algo de perversidad.
¿Demostrarás ser un líder digno de las huestes infernales? ¿O por el contrario, acabarás en el destierro por simpatizar con los humanos y sus repulsivos sentimientos? Es hora de recorrer la tierra y hacer que papá el Diablo esté orgulloso de ti.

The Devil Would Be Proud es la 1era edición de mi juego de journaling en solitario sobre la naturaleza humana, sus altos y bajos, sus defectos y virtudes. Es una reflexión creativa sobre lo que deseamos y el riesgo de obtenerlo.
The Devil Would Be Proud te anima a salir de casa para jugar (de forma virtual o física) al estilo de la dérive del filósofo francés Guy Debord.

The Devil Would Be Proud emplea un hack del sistema L.E.A.D.S. de Nicolas "Gulix" Ronvel.
Mira este vídeo si quieres saber como se juega, y como funciona el tablero virtual.
Agradecimientos a Wadabadah y Pau Blackonion por su feedback durante el desarrollo de este juego.
El Verkami de la 2da edición en físico fue completado con éxito, y ya puedes adquirirlo en tiendas.
Purchase
In order to download this game you must purchase it at or above the minimum price of $3 USD. You will get access to the following files:
TheDevilWouldBeProud_EN.pdf
6 MB
TheDevilWouldBeProud_ES.pdf
6 MB
tdwbp_playingcards_EN.pcio
1 MB
tdwbp_playingcards_ES.pcio
1 MB
virtual-board.txt
931 bytes
Exclusive content
Support this game at or above a special price point to receive something exclusive.
Community Copies
If you're in need and can't afford a copy of this game, help yourself to a community copy, no questions asked. I hope this game helps you clear your mind and get inspired.
Comments
Log in with itch.io to leave a comment.
Un video en el que explico como se juega The Devil Would be Proud

Aún no he podido probarlo, pero tras ver el vídeo que acabas de publicar tengo que admitir que me ha llamado mucho la atención.
Especialmente resaltar 2 aspectos:
MapCrunch: No conocía esta web y me parece una herramienta brutal para los juegos de rol en solitario.
La mecánica de reencuentro con las victimas me parece que puede dar mucho juego.
Y por aportar algo, se me ocurre que sería muy interesante también unir la localización con la víctima, de manera que el jugador narrase también porqué la victima está en ese lugar.

Lo dicho, a ver si saco un rato y puedo probarlo.
¡Un saludo y gracias por el juego!
¡Gracias Pablo! La verdad es que da mucho juego el mapa aleatorio. Y si, quise dejar abierto el contenido de esa charla con la víctima precisamente para que los jugadores incorporaran ideas tan buenas como la tuya.

¡Espero lo disfrutes mucho!